Hey everyone I am supper excited to let you all know that 2 Cute Rubber Stamps has asked me to be on their DT.. I design a creation and post on Sat.. :) so check out my posts
here
you can also check out the cute stamps they create there also.. :)
I used the Sting Ray Kids stamp for this card.. on the coral I placed diamond glaze to make it shine..

I also stitched and distressed the card too..


Hello everyone!! Happy Saturday.. I remember the first time I saw 2 Cute Rubber Stamps, and this ADORABLE image Sting Ray Kids was the image I instantly fell in love with.. You can get it HERE. I wanted to create a fun, and playful card. So I used copic markers to color the image. (I added some little dots on the seaweed.. ) If any of you know me.. you know that I love 3d puffy paint, it is such a fun element to use on cards and it's only around 50cents you can't beat that. So I took my puffy paint and added little raised dots on the Sting Rays, and the white dots on the bottom of the card. I also took some clear glue and put some sand (real sand from the sand box) and glued it on. If you have any questions let me know.. :)Thanks for looking!! HUGS
Everyone has a "Love Tank.." Help fill mine up.. Leave a comment..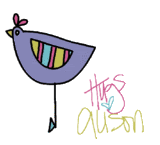 Pin It