Hey everyone!!! Well.. I went ahead and entered the contest for the Pink Cat Studio (use their paper piecing butterfly pattern) to create something.. anything that you want.. :)

Soo... here is what I did.. :) I had a blast creating this wall hanger.. I hand cut the butterflies, I used 3d pop dots to lift up the body, bent the top wings up to give it a 3d effect, I used a pink glitter paper for the top wings and punched 3 holes on each wing to add a little bit of fun.... I took puffy paint and added dots to the bottom wings, and attached rhinestone gems to the top of the antennas... I sewed the edges of the patterned paper to hold it down to the base, applied white puffy paint dots to the orange background scallops, added a fun rub on, 3 monochromatic brads.. oh.. and I distressed everything..
can you see the dots? and the 3d effect of the cute butterfly :)

I didn't stop there...
I also created a cute hair bow for my daughters hair..created out of fabric.. :)
Well thanks so much for looking.. :) HUGS
Everyone has a "Love Tank.." Help fill mine up.. Leave a comment..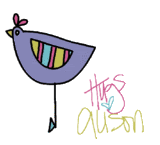 Pin It