Hey everyone!! Dustin Pike is amazing!! He is offering a set of 3 free digital stamps for anyone who would like to write Delia a little girl who was just diagnosed with Acute Myeloid Leukemia you can read more about her, the free digital stamps, and the way you can light up her life by helping out..
HERE

So this card I thought would be so much fun for a little 10 year old to recieve.. I made my owl kind of tie died.. added some glitter to the paint on the brush and pallet.. 3 gems to the side of the card.. 3 ribbons and a cute flower charm.. :) I hope she likes it..
I have entered the above card into the following challenges..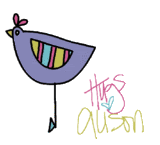 Pin It