Okay.. so one of my favorite Designers Sarah from Little Musings has not one but 2 new FREE digital stamps posted on her blog
HERE..
and she is having a PARTY to win one of 3 of her original drawings.. I usually don't post things like this.. but SHE is AMAZING and I didn't want anyone to miss out on all the fun!!! So stop by and see these amazing creations.. and don't forget to say THANK YOU!!! and tell her Hi from me.. :) HUGS
Everyone has a "Love Tank.." Help fill mine up.. Leave a comment..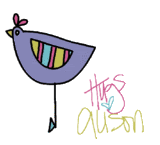 Pin It