Love Letter Blog HOP...
how fun is this.. a fun blog hop all about love.. :) Michelle from Perkett Studio's is sponsoring this fun hop.. I know you all have seen a lot of amazing creations along the way.. So thank you in advance for taking time to view mine..
I used the digital stamp Michelle provided us with.. I colored my card with copic markers, punched out a red scallop frame, added some white 3d puffy paint dots to the scallops. I also added red, pink, and gold glitter puffy paint to the digital stamp image.. and the wings of the love fairy.. I stitched the edges of the card, distressed it.. added a fun black ribbon, and a cute pink one on top.. :)
My little love letter is for all my family.. :)
Dear Family..
Thank you so much for all you do for me... For all you put up with.. and for always being there for me even when times are tough or things are not going my way.. I always feel loved, even when I wake up in the morning with stinky breath, my hair in my face, and goobers in my eyes.. Just seeing a smiling face, and an I LOVE YOU makes everything better.. :)
Love Mommy..
I have entered this card into the following challenges..
Everyone has a "Love Tank.." Help fill mine up.. Leave a comment..

•Pile It On- To The One I Love
•Crazy4Challenges- Valentine
•Creative Card Crew- Valentine
•Double Dutch- Be My Valentine
•Belli blog - Ribbons
•C.R.A.F.T - Love
•Fussy and Fancy - Hearts
•Pink Elephant - Pink
•Paperplay - Love notes
•Penny's - Valentine
•Charisma cardz - I love you
•CCEE stampers - Heart
•Delightful sketches - Love
•Stampin for the weekend - Love is in the air
•Stamp something - Love somethings
•Gingersnaps - Romance
•Bee Crafty - Romance (and a digi)
•Dare U 2 Digi - Hearts/Valentines (and a digi)
•Crafty Calendar - Love/Friendship with an option of Hearts
•Papertake - "Love Actually"
•The Tanda Teaser - Loved One
•Challenge Up Your Life - Valentines and Hearts
•Fussy and Fancy - Hearts
•LaLa Lands - Hearts
•Creative Craft - Roses are Red
•Simon Says - Red Rose
•Pixie Dust -Decorative Border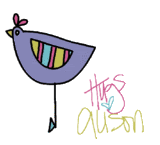 Pin It