If you are here for the Stretch N' Bubbles Digital Stamp Blog Hop!!
Hey everyone!! Happy Saturday! I am so excited to bring you this cute, easy, and fun little library card project. Sometimes I think when creating a project.. I forget that I can just make things simple.. so that's what I have done with this project.. I used the adorable Doggie Angel Digital Stamp which you can get
HERE

for this fun project I used a library card placed a piece of cardstock for the backgound and added a strip of patterned paper to the side. I colored the digital stamp with copic markers.. on the cloud and the halo I used a glow in the dark 3d puffy paint.. so much fun.. I then took some ribbon and stapled them to the top of the card. I wrote For You! on the top of the card using a sharpie marker.. I then took that marker and went around the edges of the card to add a stitching effect!.. sometimes if you don't have time to stitch your card with a sewing machine.. use a marker.. sometimes you can't even tell. :)
I hope you all had a wonderful Easeter!! HUGS
Everyone has a "Love Tank.." Help fill mine up.. Leave a comment..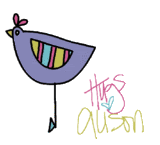 Pin It