The winner for this blog is...
Chris' Creations
Please email Lori at lpadberg@sbcglobal.net so she can get your image out to you. Bird Balloon... I can't wait to see what you create!! If she doesn't hear from you by Friday, April 16th at 8am Central Time, I'll pick another name.
Again, thanks for playing along in our blog hop. Be sure to check back tomorrow for the SNB Sketch Challenge #2!
Everyone has a "Love Tank.." Help fill mine up.. Leave a comment..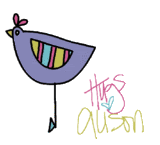 Pin It