Here is a fun card I created, this amazing digital stamp is from a new artist.. well she is new to me.. and playing with her digital stamp was so much fun.. so here is the card using a digital image from
Phindy's Place
I just ADORE her images.. and this little guy chomping down on some cake was the perfect image for me.. I have used the sketch from the pink elephant challenge blog for this card.. I colored the image in copic markers, added sewing, pop dot's under the image,
I used puffy paint for the little white dots, on the cake filling, the icing, strawberries, and the flowers all over the card..


I also took and added circles for the scallops in the pink and yellow, the pink I added the fun dots too as well.. I embossed the red strip in the middle of the card as well.. I would love to know what you think.. HUGS
I have entered this card into the following challenges
•
Crafty Creations #50
"Textures"
•
Incy Wincy#25
"Sweet Treats"
•
2 Red Bananas
"Think Round"
•
Paper Cutz #24
"Summer"
•
Stamp, Scrap & Doodle #23
"Girly"
•
Phindy's Place Challenge #3
"Something New & Different"
•
Crafty Catz:
A Birthday Card
Everyone has a "Love Tank.." Help fill mine up.. Leave a comment..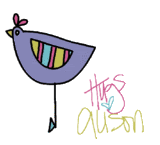 Pin It